Carey PW
Blog Tour and Book Review: Phantom Hearts by Minnette Meador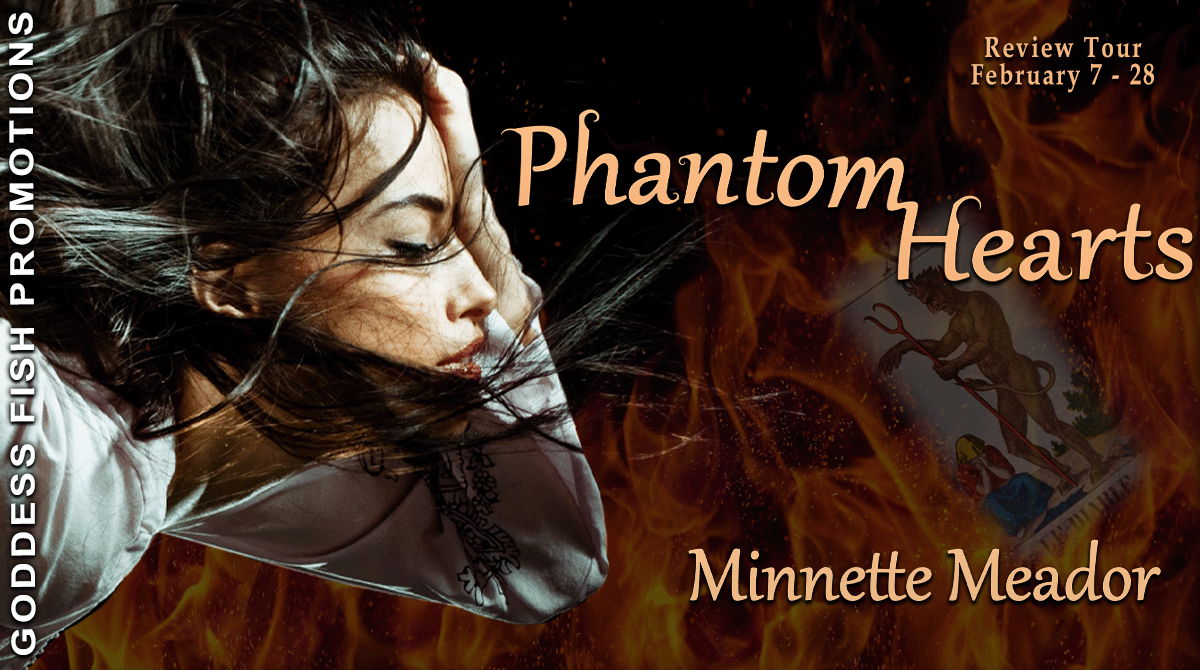 Minnette Meador will be awarding a $25 Amazon/BN GC to a randomly drawn winner via rafflecopter during the tour. Enter giveaway below.
Blurb
Brianna's house is filled with ghosts, the neighborhood association is trying to get her evicted, and she just found out she's pregnant with a demon child. Not even her tarot cards can help her. To top everything off, officer Thompson, her new love, thinks he can make it go away, but he's just making it worse! When she winds up touring the 9 levels of Hell with her baby daddy, only Thompson and her dead grandmother can help her. But they better do it quick… A Ghost Series Book
Genre: Paranormal Romantic Comedy
Excerpt
She squinted to see if she could figure out what was crawling up the mound. Then it hit her hard. It was people, or at least what looked like people. It was hard to make them out at that distance. They were all struggling to get to the top. More light escaped, throwing streaks of shadows and lights on the crowded mountain.
"Impressive, don't you think?"
She just about jumped out of her skin when the voice sounded right behind her, and she whirled around and fell on her butt. When she tried to speak, the words caught against what she was looking at and wouldn't come out.
It was a dog, a bull terrier in fact, standing on its hind legs sporting a monocle, a mustache, and a fine green vest.
"Name's Charon," he continued, holding out a paw. "And you are?"
Bri blinked at him. Where was she? Words escaped her immediately.
"No matter," he finished, dropping the unacknowledged paw. "If you want to try for heaven, you need to hurry." He pointed at the giant black mountain.
The creatures crawling up the steep slope seemed to climb faster now. As the light increased, she could see some used ropes, while others hung from strange floatation devices or a bunch of balloons. There were single-man helicopters, beanie hats, ladders completely constructed of bodies, and even great feathered wings. Few of these things were very successful. Climbing might have been the best option from what Bri was witnessing.
Author Bio & Links
https://www.amazon.com/stores/Minnette-Meador/author/B002BMBV58
https://minnettemeador.blogspot.com/
https://www.facebook.com/meadorminnette
https://www.goodreads.com/author/show/1327624.Minnette_Meador
Somewhere between thirty and dust...red hair, blue eyes...six kids, one slightly used husband, and any number of pets from time to time... wanttabe hippy... wanttheirmoney yuppie... pro musician and actress for 20 Years... native Oregonian... lover of music, beauty, and all things green. Willing slave to the venerable muse. Minnette currently resides in Lincoln City, Oregon with her husband, having replaced the children with one dog and two cats. The dog, Milo, pretty much runs the show.
Her novels include:
Starsight, Volume I, II, epic fantasy, (Amazon)
The Centurion & The Queen, Book I in the Centurion Series, historical romance (Amazon)
The Edge of Honor, historical romance, Book II in the Centurion Series (Amazon)
The Gladiator Prince, historical romance, Book III in the Centurion Series (Amazon)
A Ghost of a Chance, paranormal romantic comedy, Book I in the Ghost Series (Amazon)
The Belle Stalker, urban fantasy thriller (Amazon)
Nogero, alternate universe fantasy (Amazon Kindle Villa)
Phantom Hearts, paranormal romantic comedy, a Ghost Series Book (Amazon Kindle
Villa)
Coming Soon:
The Pirate Prince, historical romance, Book IV (Amazon) 2023
Haunted Hearts, Book II in the Ghost Series, paranormal romantic comedy (Amazon) 2023
Wy'east, urban fantasy thriller (TBD) 2023
Arpeggios in the Dark, sci-fi 2023
Wy'east, Book II, urban fantasy thriller 2024
Starsight, The God Wars (prequel), epic fantasy - 2024
Starsight, The Restless Seed (sequel), epic fantasy - 2025
Book Review
4-Stars
I enjoyed this book more than other books that I have read in a while. It is a fun take on Dante's Inferno with some eroticism thrown in to keep it spicy. The concept of demon seduction is not new. But I thought the author did a good job at describing the internal experience of the characters when they were getting seduced. I felt like I could sense the intense passion that was overwhelming them.
Reggie was a well-written villain. It wasn't always easy to know if he was good or bad. So if he could trick me, then that's a good antagonist! The lead character Bri is likeable, and her insecurities are relatable. The ghost of her grandmother is a fun character who also serves as a bridge between the living world and the underworld. The descriptions of hell and its rings were believable and allowed me to envision the torment of it. If anything, I feel like the story could've been expanded more. It still works, though.
There were some passages and phrases that did not make sense to me. I feel that these could have used some more revisions, which is why I give it 4-stars instead of 4.5. Also, I didn't grasp the comedy aspect of the book since it is listed as a comedy, or I didn't see comedy as a major theme. Perhaps it's also a take on the Divine Comedy aspect.
If readers are looking for demons, ghosts and eroticism, this book will not disappoint. I think you'll have a fun time!
GIVEAWAY INFORMATION
Minnette Meador will be awarding a $25 Amazon/BN GC to a randomly drawn winner via rafflecopter during the tour.
Follow the Full Tour
February 7: Travel the Ages February 7: Beverley A Baird February 14: Carey PW LGBTQIA Romance Author February 14: Guatemala Paula Loves to Read February 21: Archaeolibrarian - I Dig Good Books! February 21: Literary Gold February 28: The Faerie Review February 28: Lynn's Romance Enthusiasm
Thank you to Goddess Fish Promotions and the author for providing a free copy of this book for review.